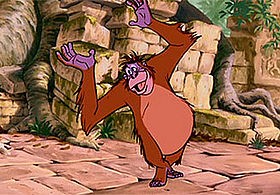 Growing up, one of my favorite Disney movies was their adaption of The Jungle Book, and perhaps my favorite scene was King Louie's production number "I Wanna Be Like You." I think what really makes this song work is that we all have a desire to be like someone else, perhaps a role model or someone who is living a life you'd like to have. I've been living my life as an IT Pro for quite a while now and I must have crossed a threshold because I often am asked, "What can I do to become like you?" So I thought I'd share some thoughts on the subject.
First, let me state out right that what I do isn't an easy way to make a living. I work for myself, from home and certainly put in more work hours than I would at a "normal" IT job. While working several projects at the same time, I am also developing future work plus dealing with all of the paperwork like invoicing, bookkeeping and taxes. Perhaps most importantly, I am able to do what I do because my family supports me and my wife has a good job with benefits. If you are the sole provider for your family, you might want to reconsider a life like mine unless you have substantial savings or lottery winnings.
Still with me? Ultimately I think if you want to pursue a career like mine it all comes down to reputation. I can only do what I do because I have spent years establishing a trusted name, reputation or brand. Whatever you want to call it. I did this by blogging, getting speaking engagements at conferences, finding opportunities to write online, contributing to forums. Anything that would demonstrate I was competent and trustworthy. Actually, it is more than that. You need to demonstrate to your community, that you are at the forefront based on quantity and quality of your contributions. That is the secret I think to becoming a Microsoft MVP, which I'm also frequently asked. Being an MVP definitely helps with your credibility and reputation, but it is a bit of a chicken/egg proposition. All I can tell you is that you have to put in the time demonstrating to your community and Microsoft that you are a valuable asset and a leader.
Today, social media is a much bigger presence than it was when I first started. You should be contributing valuable content on Twitter, Facebook, YouTube, Google Plus and more. This takes active work on your part and it will take time.
You also need to find avenues for more substantial efforts through writing, training, or presenting. There are many user groups looking for speakers. You can even start locally. Find places where you can contribute written material. It probably won't pay much but it gets your name out there. Submit session proposals to conferences. Not comfortable speaking in front of people? Then create video clips and build a following. At the very least, blog and blog frequently. One important point about content: quality counts. It may seem obvious, but don't post or create something that is a re-hash of a help document or something without explanation. The whole point about reputation is that you need to demonstrate that you know what you are talking about. So don't post a blog entry with a 1 line PowerShell command. Explain it. How did you arrive at? What are the alternatives? Why is this a good solution? In some ways, this is like good customer service – you have to exceed expectations.
All of this takes time, probably even a few years. And even then, don't expect to take 1 month vacation in the Caribbean every year and have a 6 figure salary. I'm not saying you can't set that as a goal, but know that will take a great deal of time and work to reach that level. Personally, the journey has been just as rewarding as where I am now. I've met some terrific people along the way like Don Jones and Mark Minasi as well as IT Pros who have attended my conference sessions and training classes. I like what I do now and appreciate the flexibility of being able to work almost anywhere. But I had to pay my dues and you will too, but hopefully you now have a better idea of how much that will cost.
If you are starting down this path, I'd love to hear your story, your plan or any words of advice you have for others.