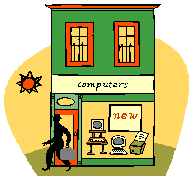 Way, way back in the day professionals would hang out a painted shingle indicating they were open for business. Even if your literacy skills were lacking you could distinguish between a doctor and an undertaker. Although I think sometimes he did both, but that's another story.
I thought I should officially hang out my "shingle". In the 21st century, this more often than not means some sort of web presence. In my case, for the time being, this blog is it. I am officially open for business. But what kind of business?
I am an independent IT professional with over 17 years experience, author and trainer. My primary area of focus is Microsoft Windows-based networks and server technologies, with a special emphasis on scripting, automation and Windows PowerShell.  Here's a short service menu:
White papers
Magazine features and columns
Guest Blogging
Podcasting
Webcasts and online seminars
Private training ( I am an MCT and can deliver most Windows infrastructure based curricula) both online and onsite
Courseware or training material development
Public Speaking and Conferences
Custom scripting and automation
IT consulting
If your organization could use any of my services or believe I can add value to your company, I hope you'll contact me: jhicks@jdhitsolutions.com. You can also find me on LinkedIn.  Even if you don't have an immediate need, I would appreciate any referrals you could send my way.
While I obviously have bills to pay, I am always open to projects from non-profit and community-driven organizations. Depending on my current work-load, I am happy to help out on a reduced-rate or even free basis. I feel it is very important to help others who are striving to make a positive difference in the lives of others.
Thank You.