It's coming up on that time of year again when I hit the road for series of tech conferences. I try to speak at several so that you have options, assuming you have any interest in what I might be presenting. I realize there is some competition between conferences but personally I think it often boils down to location and dates. I think every conference I am speaking at has something special to offer. Whether it is right for you depends on when the conference runs and the overall agenda. So here's a quick look at where I'll be through the rest of the year.
Atlanta PowerShell User Group
September 26, 2016
As part of my quick trip to Atlanta for Ignite, I will be at a special event sponsored by the Atlanta PowerShell User Group on Sept. 26 at 7:00PM. The event will be held at The Microsoft Innovation Center at Flat Iron City.. I will be joined by Don Jones and Jason Helmick, and probably more than a few other people you likely follow on Twitter. Learn more and RSVP at http://www.meetup.com/Atlanta-PowerShell-Users-Group/events/233394410/?a=socialmedia.
Ignite (Atlanta)
September 27, 2016
My trip to Atlanta for Ignite will be very brief this year. I will be around the conference and expo hall on Tuesday, Sept. 27. Look for me at the Pluralsight booth at some point during the day. I expect I'll also hang around the PowerShell or Cloud/Datacenter booths. I'm not planning on any formal appearances or book signings as I've done in the past. Perhaps the best thing is to keep track of Twitter as I'll try to announce when I'm hanging out in any one spot. I'll also be at the PowerShell Happy Hour Tuesday evening.
IT/Dev Connections (Las Vegas)
October 10-12, 2016

My first IT conference of the Fall is in Las Vegas at Aria, which is a wonderful location. I'll be doing several sessions. The highlight has to be a full day workshop on Monday I am co-presenting with Mark Minasi on Practical Solutions with Desired State Configuration. This should be a lot of fun. I will also be presenting sessions on Creating WPF Based PowerShell Tools and Do More with PowerShell Remoting.  If you've never attended one of my conference sessions you'll be happy to know that they are light on PowerPoint slides and heavy on live demo.
You can learn more and register at http://tinyurl.com/ITDevCon16. Use code 500SPKR to save $500 on registration.
IT Edge (Las Vegas)
October 28-29, 2016

A few weeks later I'll be back in Vegas for the IT Edge conference. This is a newer event aimed at a DevOps and automation oriented audience. You'll find sessions from Don Jones, Jason Helmick, Tim Warner. Not to mention a panel hosted by Brad Anderson with Jeffery Snover, Mary Jo Foley and Paul Thurrott. I will be doing a few breakout sessions on Creating Class-Based DSC Resources and Getting Started with Nano Server. On Saturday I'll be doing a full day post-conference workshop called Infrastructure from Code. This is something I don't think you'll want to miss.
You can learn more and register at www.ITEdgeintersection.com.
Cornerstone Training (Kista, Sweden)
November 14-18, 2016
Once again I am thrilled to be returning to Sweden for a week of PowerShell training at the terrific Cornerstone offices in Kista, just outside of Stockholm. I'll be doing a 5 day class on PowerShell Scripting and Automation. My classes are very hands-on with plenty of real-world exercises. The last I heard seats are still available, although it will be limited. Check out http://www.cornerstone.se/kurser/microsoft/windows/windows-server/windows-server-2012/powershell-masterclass-with-jeffery-hicks for more details.
Techmentor/Live360 (Orlando)
December 6-7, 2016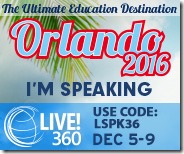 Finally, I'll wrap up the year in sunny Orlando, Florida at Techmentor which is a part of the larger Live360 event. I'll be doing three breakout sessions that I think you'll find informative if not a little entertaining.
Getting Started with Nano Server
Creating Class-Based PowerShell Tools
Creating WPF-Based Graphical PowerShell Tools
This is a terrific event for being able to interact with speakers. Plus it is being held on a Universal Studio's property which makes it very convenient to hit the park in the evening. The conference runs much longer than my appearance.  You can learn more and register at http://bit.ly/LSPK36_REG and save $500.
I hope you'll be able to join me somewhere this fall and that you'll come up and say hi. For some of these events, such as Techmentor, they will be a rare opportunity where my frequent co-author Don Jones and I will be in the same location. This is a terrific opportunity if you are looking for some book signatures.
And if none of these fit your calendar, 2017 will offer up another range of conference opportunities especially the PowerShell and DevOps Summit in April.
Happy Travels!