So I've recently moved my daily work to a different laptop, a Yoga 900 with 16GB of RAM to be exact. I had been running Windows 8.1 but decided to jump in completely to a Windows 10 environment. As part of the process I've also made it a goal to begin using Visual Studio Code (VS Code) for my PowerShell work. Like many of you I am heavily invested in the PowerShell ISE so I know this won't be easy. I've customized the PowerShell ISE extensively and have a lot of muscle memory that will need to be re-trained. One of the most important elements for me are snippets.
I rely heavily on intellisense and my own snippets to increase my efficiency when working on a script project. Once you get Visual Studio Code installed, along with the PowerShell extension, there is a lot going for you out of the box. Tab completion and intellisense seems to be even more pervasive than in the PowerShell ISE. I suspect many of the snippets I used to rely on are no longer necessary in VS Code.
But I still want to a few so here's how.
All of the VS Code snippets are stored in language specific json files. In VS Code click on File – Preferences – User Snippets and start typing 'PowerShell'.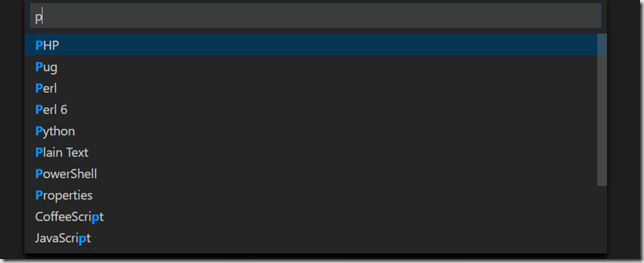 Select PowerShell and hit Enter. This will open the default snippets file which is stored in $env:appdata\code\user\snippets\powershell.json.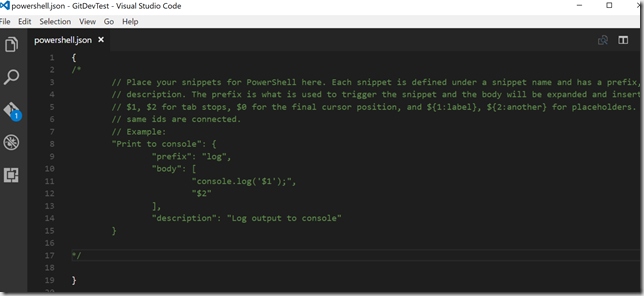 What you see is a comment describing what to insert.  Move your cursor to above the closing curly brace and type the name for your snippet in quotes followed by a colon and open curly brace.
The snippet needs a prefix which will be the text you type to activate the snippet, a body and a description. End each line with a comma.
"body"

:

"# Those who forget to script are doomed to repeat their work."

,

"description"

:

"my PowerShell quote"
And end on the next line with a closing curly brace. The finished result should look like this:

Use Ctrl+S to save the file. Open a new file (Ctrl+N). By default this will be a plain text file.

But if you click on the type you can change it to PowerShell. Now VS Code will apply all PowerShell-related features including the new snippet. Start typing the prefix:

Hit Enter and the snippet is inserted.

Let's add another snippet.  After the closing curly brace for the Quote snippet, type a comma and hit enter. Start the snippet on the next line.
I like using this line in my functions.
Write-Verbose

"[$((Get-Date).TimeofDay) BEGIN] Starting $($myinvocation.mycommand)"
But if I stick that line into the snippet file you'll see there is a problem. [Update: I realized I had a mistake in my code which I've since fixed, although the screen shots may show the "bad" code]

Red text is never good and there is a squiggle under the opening [.  Json files can be tricky. The body value needs to be quoted as a string but I also need the verbose message to be inserted as a string with the double quotes so my variables expand. the trick is to escape those quote marks.
"body"

:

"Write-Verbose \"[$((Get-Date).TimeofDay) BEGIN] Starting $($myinvocation.mycommand.)\""

,
Save the PowerShell.json file, go back to the script and insert the 'startingps' snippet.

Close — but I didn't get the $ in front the mycommand variable. In VS Code snippets you can insert placeholders like $1 and $2. In the current state VS Code thinks I'm trying to do that when I really need the literal $. After some trial and error this seems to work.
I inserted another $. Now when I save the file and insert the snippet it works as expected.
My snippets so far have been one-liners. But often I (and you ) will want to insert multiple lines. The only thing you need to do differently is insert the body as an object between a set of square brackets, and end each line with a comma.
"\tWrite-Verbose \"[$((Get-Date).TimeofDay) BEGIN] Starting $($$myinvocation.mycommand)\""

,

"description"

:

"my standard begin block"
If you are paying close attention you'll also see "\t" inserted before Write-Verbose. This will insert a single tab.

If you need a blank line use  "\r".
Sure, it may take a little time to get a snippet set up, but the point is that it is something you will use often and will pay for itself in no time.
As I continue to explore VS Code I'll share my experiences either here on in the PowerShell section of Petri.com.