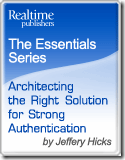 My first project with RealTime Publishers is now available. I wrote a short 3 part series on strong authentication: Architecting the Right Solution for Strong Authentication sponsored by Imprivata.
Synopsis
"Insufficient security is a hidden problem that many businesses are not fully aware of until it is too late. Weak authentication, silos of compliance reporting, a multitude of management tools, and poor security practices contribute to data breaches and compromised systems and leave organizations vulnerable to other pervasive threats. Fortunately, strong authentication systems can address these issues. A combination of consolidated identity management, single sign-on services, and comprehensive compliance reporting can reduce compliance costs, improve security, and remove significant drag on innovation. The Essentials Series: Architecting the Right Solution for Strong Authentication examines ways in which weak authentication hampers business operations, criteria for selecting a strong authentication system, and tips on how to deploy and manage strong authentication systems to control risks and improve the efficiency of business operations. "
You can download the chapters individually or as a zip file.  I hope you'll take a look.