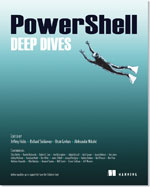 So I have the royalty statement for the PowerShell Deep Dives book for the second quarter of 2015. For those of you who own a copy, thank you. For those of you who aren't aware, even though I have a royalty statement, that doesn't mean I got paid. I have the statement because I was the primary editor for this project. If you didn't know, this book is entirely a charitable affair. No author or editor receives any financial compensation for their efforts. All proceeds go to Save the Children.
For the second quarter of 2015 only 47 copies of this book were sold worldwide. Since the book's publication in 2013 it has sold 2280 copies worldwide, both print and ebook. Royalties for the 2nd quarter of 2015 were $368.13.
While the book isn't intended to teach your PowerShell from the beginning, it will show you how to use it, often in ways you won't find anywhere else. I've often said that the content of this book is similar to presentations at the PowerShell Summit. For that reason alone I think everyone should have copy. Add in the charitable factor and I don't see why there aren't more copies out there. If you bought one of the PowerShell Month of Lunches books (thank you), you should also have a copy of PowerShell Deep Dives.
So what can we do to drive up interest? Perhaps buy a copy and donate it to a user group to offer as a give-away. Run a promotion on your blog or from Twitter. Have your boss buy a copy for the office. Post a review on Amazon. Or if you have an idea, feel free to share it in a comment. Otherwise, just do it!
Thank you.