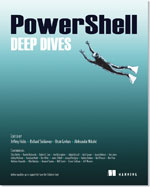 Last year I had the pleasure of editing PowerShell Deep Dives, published by Manning. This book is a community project with chapters contributed from MVPs and leading members of the PowerShell community. You won't find this content anywhere else.
Anyway, I have the first royalty report from Q3 2013. Looks like we sold a little under 1500 copies. The important thing, in case you missed the original news about this project, is that all proceeds are given to charity. For this book, Save the Children received a check for $3,338.30. That's nice but I know we can do better.
So if you've put off getting a copy, what are you waiting for? If you have a copy, thank you. Now spread the word and tell your colleagues to buy a copy. You can get the title in print or ebook formats. You can also buy the book from Amazon. In fact, if you've read the book a posted review would also help. The more reviews the attention the book can get which should lead to more sales and continued charitable contributions.
Thank you again to all of the authors and editors on this project and to those of you who have a copy on your shelf. I hope you found a few things that made it worth your investment. For the rest of you, well, you know what you need to do.