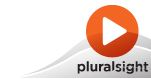 I am so happy to announce that my first course under the Pluralsight badge has been released. My latest course is titled PowerShell v4 New Features. This course is aimed at IT Pros with previous experience using PowerShell, especially PowerShell v3. The course runs just under 3 hours (although it felt much longer than that while preparing it
) and covers just the new bits that have changed from v3 including an introduction to Desired State Configuration (DSC). I provide enough information to get you started.
If you need to get caught up on v3 first, you can find my other courses on my author page. I hope you find my new course helpful.