Over the last several weeks I've been researching, thinking and mulling over a decision for a new laptop. In short, I was looking for something smaller in the ultrabook form factor that could still run a few Hyper-V virtual machines. In the end I decided to compromise and ended up with a Yoga Pro 2 from Lenovo.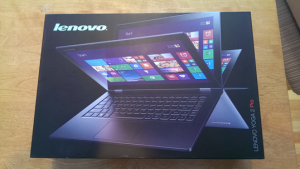 I went with the i7-4500 1.8Ghz CPU with 8GB of RAM and a 512GB SSD. I also went with the Clementine model because I liked the color and I live in the Syracuse, NY area where Orange is king.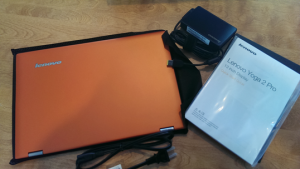 This wasn't a perfect choice. The model has 1 USB 3 and 1 USB 2 port. There is also no ethernet port and since I plan on hooking this up to a small switch when I train or present, I needed some peripherals. So I also ordered a SIIG 7 port USB hub and an USB/Ethernet adapter.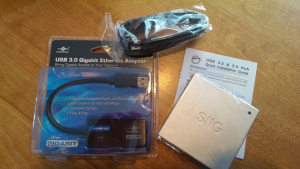 I wanted a USB hub with external power so I wouldn't have to worry about running out of juice to drive an external drive or two. I haven't decided yet how it will work out but I might end up using the hub on my Brix Hyper-V box.
The ethernet adapter is for USB 3, but I'm plugging it into the USB 2 port and it has no problem getting to 1 gig. I can live with that. The wifi that is included in the Yoga 2 Pro is only single band. So I spent about $40 and ordered the dual band version. This necessitated removing the bottom which was a bit tricky.
You'll need a small torx or tiny flat-head screwdriver. I used a credit card to slide between the bottom and the body. It took a bit of work and wiggling all the way around. The bottom is also affixed with some sticky tape so there is a little resistance.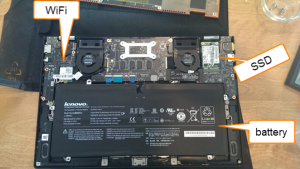 I'm not expecting to upgrade the SSD anytime soon. RAM is soldered on so there's no upgrade there. But I did replace the WiFi. The tricky part is getting the antennae snapped back into place.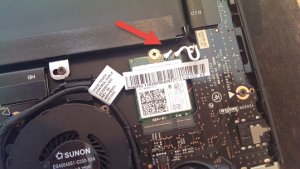 If you can find someone with small, yet strong, hands see if they can do this for you. Oh, it also helps to have good eyesight. But once connected I got much better throughput.
I've been trying out the different stances the Yoga can take.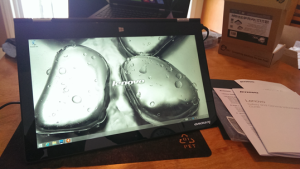 After some reconsideration I realized I could take advantage of the flexibility. I can see it useful when watching movies while traveling. Or putting it into tablet mode and watching training courses from Pluralsight while exercising. This is a touch screen model, although I'm still not sold on making that the only way I use the device. For one, I can't stand the fingerprints on the screen.
I left the default install alone, although I did run Windows Update and update drivers. My primary use will be via a native boot from VHD. I copied over an existing VHD and it booted up, found the new hardware and so far works like a champ.
The screen resolution is both amazing and frustrating. Because it is so high, 3200×1800, font sizes are super tiny. So I've had to experiment. Right now, I'm running it at 2048×1152. The Yoga 2 has a micro-hdmi video port so I'll still need to buy some adapters so I can hook this up to different projector connections. If anyone knows of a kit or bundle with a variety of adapters, I'd love to hear about it.
I've done some typing on the device and while ok, it isn't something I would want to spend all day working on. But since it is going to be primarily my travel device (for now) I don't mind. The touchpad seems a little quirky and I might dig out an old bluetooth mouse and hook that up.
I will be traveling next week so I'm looking forward to seeing if I made a good decision. If the Yoga Pro 2 came with 2 USB 3 ports, dual band WiFi, and a better video connector I don't think I would have hesitated. I would even have spent a bit more. Even so, I showed it to my wife who immediately said she wanted one as well.
As I gather more experiences, I'll share them with you. Thanks to everyone who chimed in on my quest.